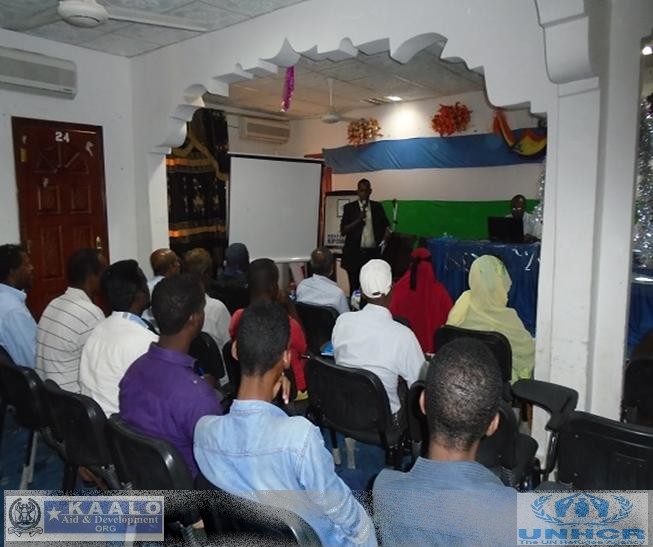 Implemented by: KAALO
Funded by: UNHCR
Hold in chamber commerce/Bossaso.
Contents
2.0 REGISTRATION OF THE PARTICIPANTS: 3
2.1 INAUGURAL SESSION OF THE WORKSHOP: 3
2.8 METHODOLOGY USED FOR DELIVERY. 5
EXECUTVE SUMMARY
KAALO organization conducted five days workshop training concerned on the "Human Rights advocacy for the RAS and local stakeholders educate their own rights, its main objective was to improve the efficiency and impact of human rights to advocate for their own rights. In order to provide information on the categories of human right  relevant to international human right standards, in addition to provide information on techniques for domestic laws  and encourage the development of the relevant skills of the human rights beneficiaries  and other human rights professionals. Through the delivery of essential social services that build commitment to sustained the human right law and international humanitarian law and strengthen the networking with institutional judiciary. The training workshop has  also improve the transformative behavior change to build the roots of equity, tolerance and respect for human rights essential to ensuring a deep and lasting of juicstice.
The workshop provided a unique opportunity for a frank interaction with representatives of the lawyers, civil society and refugees' communities. The interaction demonstrated both the difficulties and the possibilities of building mutual respect and understanding to adopt the administrative justice that have been appeared among them as well as equip them with skills of human rights law.
KAALO implements development intervention, capacity building programs and other important activities in Puntland. This intends to support the effort on livelihood improvement, peace and stability and human rights status of the refugees and target community. To enhance the above, KAALO conducted this five day training workshop for 30 participants from the Refugees committees including Yemen refugees, local NGOs Line ministers  on 1st – 6th /12/2015.
Thus, the aim of the training workshop on human right monitoring and report for lawyers was to strengthen the respect of the refugees' rights in terms of stability, promote integration of refugees and build the capacity of local and refugee communities.
The facilitator used during the workshop the following methods as was appropriate according to the activities of the sessions: Presentations by participants, Brainstorming, Group discussion, Experience sharing. The facilitator used various materials and resources to make the training a success including a lap-top computer, an overhead projector, flip charts, instruction materials on PowerPoint slides and handouts. The facilitator also made use of various reference materials and sites in his efforts to make the meeting/workshop thorough as effective as possible.
Read More