Puntland Livestock Value Chain Project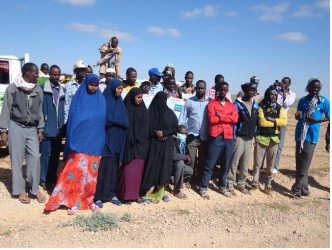 First batch Training/workshop Report
Organization: Kaalo Aid and Development
Subject: Training Report on "Community Based Animal Health Workers"
Garowe-Puntland
Duration: 28.Jan-17.Feb.2013
Prepared by: KAALO AID AND DEVELOPMENT ORGANIZATION
List of abbreviations
| | |
| --- | --- |
| AHO | Animal Husbandry Officer |
| AHT | Animal Health Technician |
| CBAHW | Community-based Animal Health Worker |
| CBPP | Contagious Bovine Pleuropneumonia |
| DVO | District Veterinary Officer |
| FAO | Food and Agriculture Organization |
| GDP | Gross Domestic Product |
| LSD | Lumpy Skin Disease |
| NGO | Non-Governmental Organization |
| OAU/IBAR | Organization of African Unity, Inter-African Bureau for Animal Resources |
| PRA | Participatory Rural Appraisal |
| VSF | Veterinaries sans Frontiers |
| VO | Veterinary Officer |
| KAD | Kaalo Aid and Development |
| MOLAH | Ministry of Livestock and Animal Husbandry |
| PVB | Puntland Veterinary Board |
Acknowledgements
Any accomplishment requires the effort of many international and local organizations, international donors and also people do the job and this work is no different.
Many thanks to our donors who helped us to support our community, especially thanks to USAID and DIA with their funding of the project of Puntland Livestock Value Chain.
This project helps the lives of thousands of people who live in the rural areas of the region and countryside and millions of different livestock species.
Remarkable thanks to the community of Dangoronyo district for their warm welcoming and assisting us to perform the field practical.
Contents
List of abbreviations. 2
Acknowledgements. 3
Introduction. 5
Official Opening: 5
Training Background. 7
Training objectives. 7
Training Target Groups. 7
Expected Training Outputs. 8
Training methodology. 8
Class sessions. 9
Field visit. 10
Conclusion. 11
Constrains. 12
Recommendation. 13
Annex 1 Training Pictures. 15
Annex 2.. 18
Introduction
The delivery of livestock health services in many developing countries is undergoing restructuring. One publicized initiative to refocus service delivery has been the introduction of community-based animal health workers (CBAHWs). This involves training community-selected representatives in basic animal health care and livestock production techniques. The objective is to supplement and support the existing professional system for delivering such services to communities in marginal areas.
A previous study revealedthe nature, characteristics, and activities of CBAHWs and provides information that would guide policy debate regarding their integration into formal health service delivery.
Official Opening:
On 28th January 2013 at 9:30 am, the Workshop met for the first time at PSU Conference, in Garowe, Puntland.
The deputy minister of ministry livestock and animal husbandry of Puntland, Dr. Nuur officially opened the workshop.
He said he was delighted to open the workshop, which concerned him, firstly as a Ministry of state for the region, and secondly as a pastoralist himself, who values animal health delivery services. He knew the workshop was addressing an important issue for pastoralists, and emphasized the need to train more animal health service providers so as to improve the health and productivity of livestock.
He said that community based animal health workers have been useful. They can go where veterinarians cannot. In addition, such CAHWs are in the best of positions to sensitize pastoralists caring for sick animals, what to do when epidemics break out.
CAHWs and other innovations are essential so as to keep pace with the farmer's needs for the services.
He challenged veterinarians to widen their horizon of concern, for example consider issues related to the wellbeing of the livestock like water. It is pastoralists' search for water and pastures in various areas which makes livestock disease control complicated. Likewise indigenous knowledge concerning medications should also be encouraged in addition to the western drugs.
Finally he thanked the organizers of this training, Kaalo, DIA and USIAD.
Special thanks went to Dr. Mohamoud Sh. Hamud who spear headed this training and the sponsors DIA were highly appreciated. He thanked the participants for having come to this training. He declared the training opened, wishing the participants a fruitful stay. He trusted that useful practical solutions would be formulated during the course of the workshop.
Training Background
Although, livestock are a major asset for rural households throughout Somalia, many areas in the country are characterized by limited or no acceptability of veterinary services. It is increasingly recognized that one of useful approach to improving primary level of veterinary service delivered in rural area in the country is the use of CBAHWs.
Training objectives
To review the training trends and practice of various livestock and service providers.
To learn from farmers and various service providers in pastoral areas of the Puntland
To learn the participant, how to treat , deal and report sick animals
Training Target Groups
The target groups for this workshop included the following;
– Puntland Veterinary Board
– Community Based Animal Health Workers
– Non-Governmental Organizations
– Farmers Representatives
– Ministry of Agriculture and Animal Husbandry
Expected Training Outputs
At the end of the workshop the participants have expected to be more informed about the following:
At the end of the workshop the participants have expected to be more informed about the problems related to service delivery in pastoral areas, and a plan of action will be outlined based upon resolutions.
Have understood how to handle sick animals and treating them.
To understand most common veterinary drugs and preservation of these drugs.
Disease reporting methods.
Training methodology
The following methodologies were used during training period:
Power point presentation
Brainstorming sessions
Group work discussion
Experience sharing
Pictures and videos
Case history/ interview
 Clinical observation
Practical activities
Class sessions
Twenty seven participants were selected from the community of twelve villages in two regions of Mudug and Nugaal in Puntlnad , four of them were female while others were male, the training period was twenty-one days, fifteen days in class lecture/theory and six days of  high-light of the workshop was the field visit organized by Dr. Awil and colleagues to the countryside of Dangoronyo district, during class lectures the participants were shown a prepared PowerPoint presentations, images ,videos, veterinary drugs and equipments, and also class group discussion was made in order to exchange the skills and livestock familiarity that every and each participant retain .
During class sessions, based on the locally identified constrains. Generally, the training curriculum covered the following topics:
Relevant stakeholders and their role on the scheme
Animal body system
Local disease diagnosis, treatments, prevention and control
Identification and notification of notifiable diseases
Basic pharmacology and drug administration, label reading and handing of drugs
Record keeping and report writing
Field visit
After fifteen days in class, the participants visited in rural area of Dangoronyo district to apply their theoretical knowledge and skills taught in the class to practical, during field attachment the participants visited two settlements. At the first there were around 20 huts. The villagers warmly welcomed the participants and explained to them how they kept livestock, and the problems they faced. They practice transhumance. The young men take animals to distant grazing lands, far from towns, road seven houses, and spend several months in mobile camps or kraals, grazing and guarding the animals.
The livestock keepers went on to describe the disease problems they faced. Although the herders have a rich tradition and much expertise in herbal medicines, they find that for many severe diseases western medicines are essential. However traditional treatments are still used, and for some conditions they are highly effective. The livestock owners described how the CAHWs introduced new medicines and therapeutic techniques, and the benefits this has had on the health of their livestock. Many more animals survive and they can now earn more money from livestock. At the same time the short supply of drugs and the lack of money to buy drugs are serious constraints.
At the second settlement, the villagers, with typical generosity, had constructed a shelter for the visiting participants. They brought an animal suffering from a strange and new disease that was decimating their herds, and for which they had no treatment. The participants quickly diagnosed this as camel mange, which is caused by mite of the family Sarcoptidae that affects camel.
Participants detected many animals that are suffering from different diseases that exists in the area such as, respiratory problems (Pneumonia), helmenthiasis, diseases caused by ticks, and mange, the trainees use some drugs to help and increase the defense mechanism of sick animals and treating them, drugs used were Ox tetracycline 20%, Albendezole syrup 10%, Albendezole tablet 2500mg, Ivermectin 1% and Sulfonamide.
Conclusion
The improvement of productivity & animal health in the farms is a prerequisite for rise in the farmers' & veterinarians' income.
This will enhance the farmer's capacity to pay for veterinary services, inputs & marketing services thereby sustaining the private practice.
CBAHWs are useful due to access and availability of animal health service in pastoral areas; livestock keepers were interested in CBAHWs because they were "treating sick animals which then recover".
The CBAHWs are community members with basic training in animal health, who treat animal diseases within their communities. Their selection, activities, education level, supervision and remuneration vary with circumstances but the following are typical:
• CAHWs identify diseases and provide prophylaxis and treatment.
• Training is short, inexpensive and often informal and local.
• There is veterinary support and supervision.
• The community is fully involved in selection and participation in setting up and managing CBAHWs service and activities.
Constrains
Problems Associated with CBAHW Programs
CBAHW Limitations/Constraints:
Minimum knowledge base of CBAHWs
CBAHWs working on credit
Depletion of drug kits
Misuse of medicines
Fall out of CBAHWs from the programs
Lack of accountability/quality control service
Internal NGO Limitations/Constraints:
Financial limitations on training numbers and frequency
Lack of standardization between various NGOs
Lack of or few number of women's involvement
Lack of communication and reporting to the District Veterinary Office
Poor veterinary drug supply
External Environmental Limitations:
Insecurity
Black market drugs
Poor infrastructures (roads, communications)
Problems faced by CBAHWs:
Small capital increasing the cost of inputs purchased relative to the distance travelled.
Lack of appropriate training & updating of acquired knowledge leading to inefficiency at work (lack of capacity building).
Improper drug storage & drug abuse leading to loss of confidence by farmers in CBAHWs.
Low supervision.
Others fall off business of treating animals due to inability of their clients to pay for treatments given on credit, or from using business profits for unplanned expenditures rather than restocking. This is due to poor business skills/debt management & is one of the major reasons causing failure of many CBAHWs.
Lack of consistent reporting on their progress, difficulties & no system in place for evaluating the quality of work.
Adverse weather conditions affecting the livestock industry.
Recommendation
After having seen the problems observed during the training period and livestock services in the visited locations, I recommend the following:
International organization and government should design roads in order to access the rural and unreachable areas in the region.
More emphasis on refresher training sessions based of the identified training needs and frequent experience sharing sessions at divisional/district level and also other horizontal linkages.
Based on this training finding, DIA with USIAD partner should continue to advice its partners at policy level on the extension of CBAHWs to undeserved areas.
Government, USAID and other international NGOs and local NGOs should continue to assist national veterinary services to gain the experience and capacity to provide technical and organizational advice to relevant institutions involved in the initiation and management of CBAHWs system.
The introduction of cost sharing in the initial drug supply to CBAHWs as a sing of commitment and ownership of the veterinary drug kit.
Invitation of more experienced CBAHWs to participate in the training of new CBAHWs to orient/shape and give induction based on their experience.
Support is required so that Somali pastoralist products (mainly livestock based) are of the quality adequate to compete in the international market, and so be a more important foreign exchange earners, for example leather and milk products, tanning, milk processing, and processing other natural (usually tree based) products from the pastoral system
Policy (at different levels) needs to actively acknowledge the role of the livestock sector and pastoralism as the mainstay of the country. This needs to be reflected in donor investment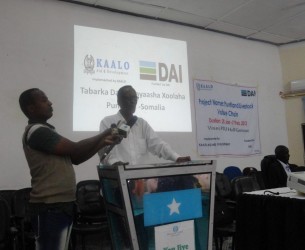 Kaalo executive chairman Prof. Mohamoud Sh. Hamud
participating officially opening ceremony of the training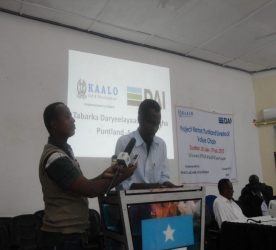 Dr. Ahmed Artan, DIA representative, participating officially opening ceremony of the training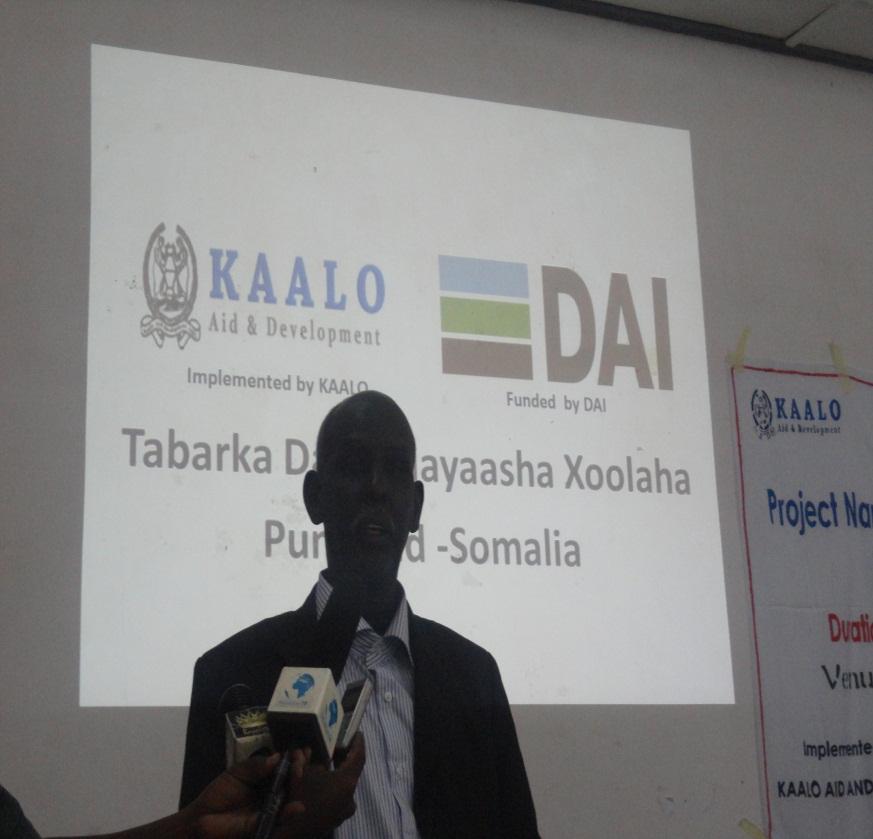 Deputy Minister of ministry of livestock and animal husbandry Dr. Nuur Ahmed yusuf participating officially opening ceremony of the training .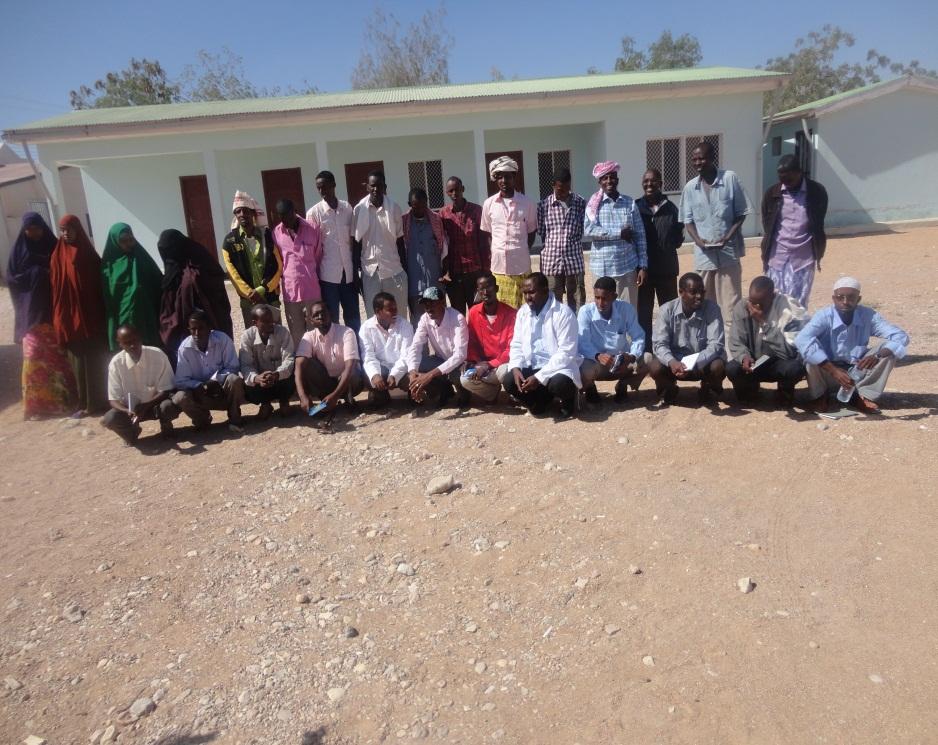 Participant and trainers group photo, in PSU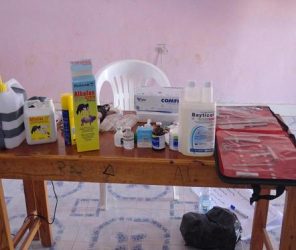 Some of veterinary drug and equipments used to display
participant during class sessions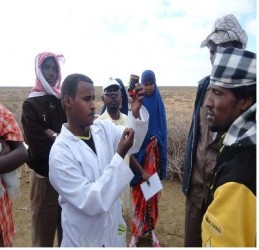 Trainer showing the participant how to fill syringe with antibiotics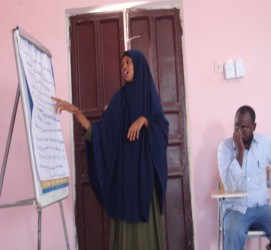 After discussion group, Hawo presenting their results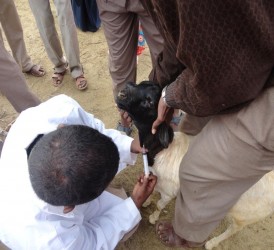 Trainer showing the participant how to collect blood samples in sheep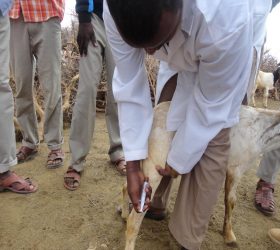 Trainer showing the participant how to collect to give a drug through intro-muscular injection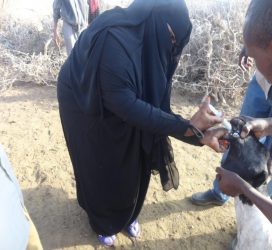 Mariam giving a sheep and Albendedole through oral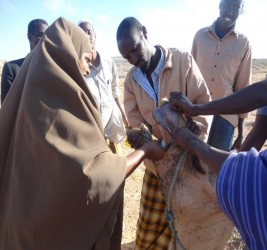 Hibo giving she-camel anAlbendedole through oral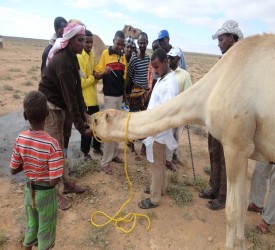 Trainer showing the participant the site jugular vein in camels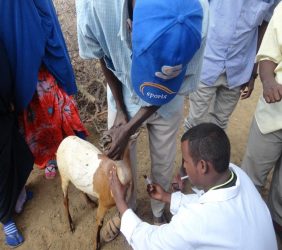 Trainer showing the participant how to collect blood samples in goat
The End